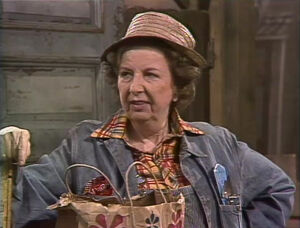 Mary Wickes (1910-1995) was a character actress with a long career in film, television, and stage, usually as wisecracking comic relief. She guest starred on Sesame Street in Episode 1430 as Winkle, a woman who opens a plant nursery on the street.
Wickes specialized in playing outspoken domestics, nurses, nuns, secretaries, and spinster neighbors. She originated the role of Nurse Preen on Broadway in The Man Who Came to Dinner (1939) and would reprise it in the 1942 film version, a 1949 TV version, and even a 1972 TV version. The latter starred Orson Welles, with whom Wickes had previously worked on stage and in the old-time radio era on The Mercury Theatre on the Air (1938). Another notable nurse was Nurse Pickford in Now, Voyager (1942, with Bette Davis). Nuns are highlighted by Sister Clarissa in The Trouble with Angels and sequel in the 1960s, and then, during a movie comeback in the 1990s, the starched Sister Mary Lazarus in the Sister Act movies (opposite Whoopi Goldberg).
Other film credits included June Bride, On Moonlight Bay, and White Christmas (all as housekeepers), The Music Man (as part of the gossipy ladies' coterie), Who Done It? (as love interest to Lou Costello), Postcards from the Edge, and Little Women (1994, as Aunt March). For Disney, she played Katie the maid in The Mickey Mouse Club serial "Annette," voiced Laverne in The Hunchback of Notre Dame, and most esoterically, was filmed as the live-action reference model for Cruella DeVil in 101 Dalmatians.
On television, Wickes appeared on I Love Lucy (and several other series with Lucille Ball), Match Game (a frequent panelist), Studio One (playing Mary Poppins in 1949), Alfred Hitchcock Presents, Zorro, Murder, She Wrote, Columbo, The Love Boat, and M*A*S*H. She had recurring or regular roles, usually as domestics again, on The Gertrude Berg Show (netting a 1962 Emmy-nomination for Best Supporting Actress as landlady Maxie Maxfield), Dennis the Menace (as romance-starved neighbor Miss Cathcart), Doc (Nurse Tully), Sigmund and the Sea Monsters (Aunt Zelda, another housekeeper), and The Father Dowling Mysteries (as rectory housekeeper Marie).
External links
Community content is available under
CC-BY-SA
unless otherwise noted.