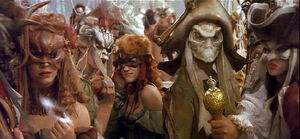 The Masquerade Ball occurs during Sarah's dream sequence while Jareth sings "As the World Falls Down".
Sarah wanders the ballroom, as if in a trance. The entire choreography of the scene was designed to have a dreamy, trance-like quality. The guests dance, laughing, having a good time. In the scene, Sarah seems uncomfortable around the others, until the Goblin King arrives. The two dance together until Sarah begins to realize what is going on. She flees from the guests. She breaks out of the dream, and when she does, the entire sequence visibly begins to break down. The guests fall over or fly to the ceiling and the wind blows hard through the room.
The masks were designed to be parodies of the goblins, and made to fit each individual dancer. Cheryl McFadden choreographed the sequence which features Louise Gold and Cheryl Henson as dancers.[1]
See also
Sources