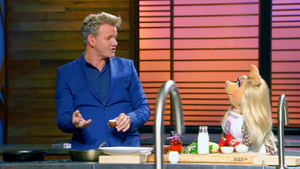 MasterChef Junior is a cooking competition show hosted by Gordon Ramsay, airing on Fox and is a spin-off of his popular MasterChef featuring children in range of age from 8-13, and doesn't include yelling or swearing of which Ramsay has become known for on the adult version.
Appearances
In the fifth season episode "The Muppets Take MasterChef" (May 4, 2017), Miss Piggy and The Swedish Chef take part in the show, Piggy becoming a contestant and Swedish Chef a judge. The children (and Miss Piggy) are challenged with making Miss Piggy's favorite dish, Steak Frites (steak and fries), at first Piggy attempts to cheat and order one, before Ramsay, whose name she can't remember, takes her phone. Ramsay then over time ends up making her entry for her.
When the time is up the contestants take their finished dishes to be judged by Ramsay and the Swedish Chef, who makes their food talk, and smacks one against the table and gives a hug to a young girl named Cydney who worries her dish isn't properly prepared. When Miss Piggy shows up to be judged, she takes full credit for the dish Ramsay made.
Miss Piggy is then eliminated after the judges deliberate and Ramsay reveals the truth about her dish.
External links
Community content is available under
CC-BY-SA
unless otherwise noted.