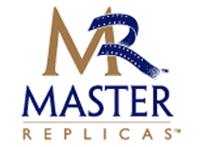 Master Replicas is a division of Corgi International which specializes in making detailed replicas of movie props.
The company produced collectible Muppet photo puppets from 2006 to 2008. In 2006, Master Replicas produced a Kermit the Frog photo puppet replica, using the patterns and materials that the Muppet Workshop uses to produce the official photo puppets. The second figure in Master Replicas' Muppet Collection was an Animal photo puppet replica which was released in 2007. The third was a Gonzo photo puppet replica, released in 2008.
A Fozzie Bear Photo Puppet was in the works as the fourth replica, proto type was first shown at the San Diego Comic-Con in 2007; however the company struggled to keep production costs down and find substantial retail support for such a high-priced item, and production was not completed before their license expired.
Fraggle Rock performer Terry Angus has been involved with the production and design of the replicas.[1]
eFX picked up the license to produce photo puppets in 2009, with hopes of continuing the series of products.
See also
Sources
↑ Posts by Terry Angus on Muppet Central forum, October 2006 - May 2008.
External links
Community content is available under
CC-BY-SA
unless otherwise noted.