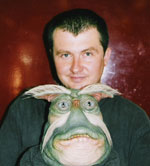 Matthew McCoy is a puppeteer who has performed in theaters within Australia and internationally.
He performed as the on-set manipulator of Rygel and Performance team leader for Pilot for the Jim Henson Company production of Farscape as well as performing an extensive range of guest animatronic characters on the show.
McCoy is the artistic director of The Shadow Factory. Currently his work can be seen as the performer of the character known simply as Puppet on Noggin's The Upside-Down Show.