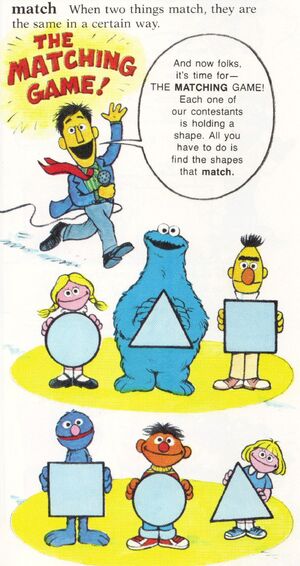 Match Game was a game show where contestants attempted to match fill-in-the-blank answers to questions posed to celebrities. The show became known for its bawdy humor from the six celebrity panelists, which often included regulars such as Richard Dawson, Charles Nelson Reilly, and Brett Somers. Many incarnations of Match Game have been on the air since 1962, with Gene Rayburn hosting the first five versions of the show. Other hosts include Ross Shafer (1990-1991), Michael Burger (1998-1999) and Alec Baldwin (2016-present).
References
Mentions
The August 14, 2016 episode featured the question, "Sesame Street is being rocked by a tabloid scandal. Instead of a Rubber Duckie, Bert and Ernie were photographed in the bathtub playing with ______."
The January 24, 2018 episode featured the question, "Have you tried Kermit the Frog's new line of craft beers? Bartenders warn that the extra hoppy pale ale is so strong, it'll make you ______."
Connections
Community content is available under
CC-BY-SA
unless otherwise noted.