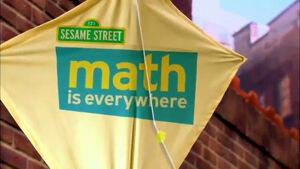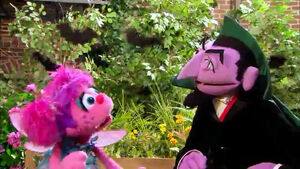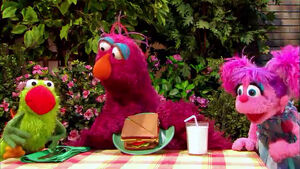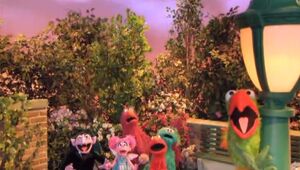 Math Is Everywhere is a Sesame Street educational resource video released by Sesame Workshop in September 2010 designed to build children's awareness of math in their daily lives. The video was produced in both English and Spanish.
In the video, Abby Cadabby loses her wand and looks all over the street for it. She adds and subtracts bats with The Count, who tells her math is all around her. She later meets up with Telly and Ralphie, who show her that diagonally cutting a square sandwich makes two triangles. In the park, Rosita and Elmo show her a "Wiggle Wiggle Hop" dance, which involves patterns. Abby finally finds her wand in a flower pot and joins her friends in singing about the wonders of math.
Credits
Executive Producer: Christina Delfico
Co-Executive Producer: Kevin Clash
Producer: Maureen Schultz
Written by Carin Greenberg
Directed by Kevin Clash
Starring the Muppets of Sesame Street
Senior Creative Consultant: Kevin Clash
Associate Director: Ken Diego
Production Designer: Bob Phillips
"Math Is Everywhere"
Studio Music Director: Paul Rudolph
Additional Music Composed by Mark Schultz & Dan Vitco
Jim Henson's Creature Shop Workshop Crew: Jason Weber, Connie Peterson, Rollie Krewson, Polly Smith, Lara MacLean, Colette Nickola
Sesame Workshop Vice President, Outreach and Educational Practices: Jeanette Betancourt, Ed.D.
Sesame Workshop Executive Vice President, Education, Research and Outreach: Lewis Bernstein, Ph.D.
Cameras: Shaun Harkins, Frankie Biondo, Jerry Cancel
Production Assistants: Andrew Moriarty, Carlos Jimenez, Dan Levy, Debbie LLoyd, Julie Matthew, Pamela B. Ginsburg
Sound Effects: Dick Maitland, CAS
External links
Community content is available under
CC-BY-SA
unless otherwise noted.