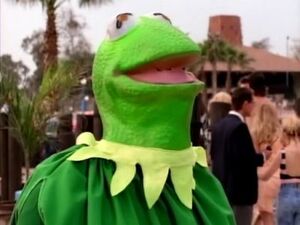 Matlock is a court-room drama starring Andy Griffith as a Southern defense attorney, which ran from 1986 until 1995. The series usually had Matlock proving his client's innocence, Perry Mason-style, by unmasking the real killer in court. The show has remained available through reruns, often on channels geared towards older viewers.
Muppet Mentions
In the fifth season episode "The Accident" (1991), Matlock's legman Conrad goes undercover at a water park, wearing a walk-around Kermit the Frog costume.
A fourth season episode was titled "The Cookie Monster" (1990), focusing on the takeover of a bakery company.
References
Mutt Lock is one of the shows on TV in the "Good Doggy, Bad Doggy" segment of the Dog City episode "Doggy See, Doggy Do."
On February 23rd, 2016, Chip hacked into The Muppets Twitter account. When asked what was happening with the show during hiatus, he responded, "I never spoil things online. Not after I ruined the ending of my mom's favorite #Matlock episode. #TheMuppets."[1]
Connections
Sources
↑ THe Muppets Twitter. Feb. 23, 2016. 5:59 pm
Community content is available under
CC-BY-SA
unless otherwise noted.