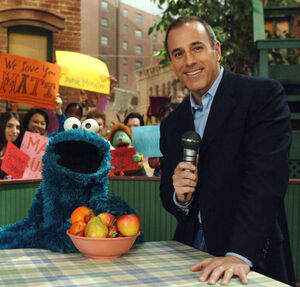 Matt Lauer (b. 1957) hosted NBC's morning TV program The Today Show from 1997 to 2017 and has featured during several guest spots with the Muppets. In one of the segments which aired on New Year's Day, 1998, Miss Piggy told Lauer that the New Year's Eve date that they'd just had would be their last.
Lauer contributed a "Boston Lettuce Salad" recipe for Miss Piggy's 1996 cookbook, In the Kitchen with Miss Piggy.
Lauer also appeared in the 37th season of Sesame Street in a Healthy Habits for Life segment, confronting Cookie Monster about the rumors that he was giving up cookies and becoming a "Fruit Monster." Cookie Monster refuted the rumor, and blamed the media for blowing everything out of proportion. Cookie Monster then proceeded to eat Lauer's microphone, eliciting a complaint from Lauer that it comes out of his salary.
Lauer and his daughter, Romy, appeared in the 2006 Sesame Beginnings DVD Exploring Together.
On January 5, 2007, Miss Piggy appeared on The Today Show's celebration of Lauer's 10th year as anchor of the show. Popping out of a cake, Piggy sang a flirtatious "Happy anchor-versary to you." Lauer responded by kissing Piggy on the cheek, and thanking her for making so many appearances on the show: "You've really brightened our days." Piggy confessed, "You know, I have had a crush for you all of these years, and I would love nothing more than to run my fingers through your hair. But..." Lauer chuckled, and admitted, "You're about five years too late."
Lauer took part in the 2008 special episode, "The Muppets Take Over Today," and appeared in Muppet Whatnot form, performed by Joey Mazzarino. Lauer was also the host of the 2006 and 2007 Annual Sesame Workshop Benefit Gala.
External links