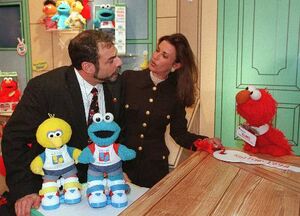 Mattel Inc. is a toy company and the largest toy company in the United States of America based on revenue. Its products include Hot Wheels cars, Barbie dolls, board games, and other items. Founded in 1945 by Elliot Handler and Harold "Matt" Matson, the company's name was formed by combining the founder's names ("matt-el").
In 1993, Mattel merged with the Fisher-Price toy company. In 1996, Mattel purchased Tyco Toys, which was the third largest toy manufacturer at the time.
In addition to Barbie, Mattel's licensed merchandise lines over the years have included Batman, Superman, and several products based on the Muppets and other Henson properties.
In recognition of the extent to which Sesame Street products aided corporate revenue, at the International Toy Fair on February 9, 1998, Elmo was appointed CMO ("Chief Muppet Officer") of the company. The announcement was made by Mattel's then-current CEO Jill Barad and Tyco Preschool president Neil Friedman (now president of all Mattel brands).
While Elmo's corporate employment might appear to clash with the non-profit status of Sesame Street, his position appeared to be merely ceremonial, as part of a public relations move and to promote the Walk & Talk Big Bird and Cookie Monster dolls; to date, no info has emerged to suggest that Elmo personally affected any changes in the company's toy line, the recent debut of TMX Elmo notwithstanding. Mattel's Sesame Street merchandise was released under the Fisher-Price label until 2011, when the Sesame license went to Hasbro.
Muppet/Henson Toy Products
External links
Community content is available under
CC-BY-SA
unless otherwise noted.