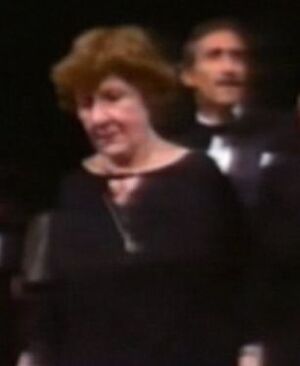 Maureen Stapleton (1925-2006) was an Oscar-winning actress of stage, film, and television. She made a cameo in the 1979 special The Muppets Go Hollywood, appearing near the end to join the conga line.
Stapleton made her Broadway debut in 1946, and from the '50s onward she starred in notable dramas by major playwrights, including Tennessee Williams' The Rose Tattoo, Neil Simon's The Gingerbread Lady (winning Tony awards for both), and Lillian Hellman's Toys in the Attic. She twice played the mother in Broadway revivals of The Glass Menagerie.
Stapleton's first notable film role was in Lonelyhearts (1958), netting her first Oscar nomination for Best Supporting Actress, which she would finally win for portraying Emma Goldman in 1981's Reds. She appeared in Bye Bye Birdie (as Dick Van Dyke's mother), Airport (another Best Supporting Actress nomination, as the bomber's wife), Interiors (another Oscar nomination), Plaza Suite (reprising her stage role), The Fan, Johnny Dangerously (as Michael Keaton's perpetually ailing mother), Cocoon, and Nuts.
On television, Stapleton appeared on early dramatic anthologies like Studio One and Playhouse 90 and in dramatic TV movies (The Gathering with Edward Asner, Queen of the Stardust Ballroom opposite Charles Durning, and others). She guest starred on Naked City, East Side/West Side, The Equalizer, Avonlea, and in a rare sitcom appearance, Car 54, Where Are You (as a gypsy lady who curses the squadroom).
External links
Community content is available under
CC-BY-SA
unless otherwise noted.