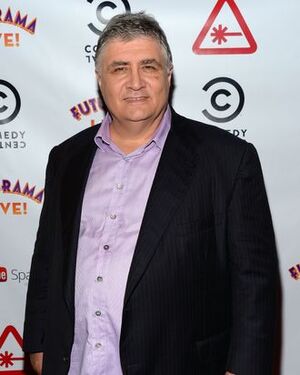 Maurice LaMarche (b. 1958) is a voice actor best known for his roles as the Brain on Animaniacs (and its spin-off Pinky and the Brain) and Egon Spengler on the animated Ghostbusters series (and Extreme Ghostbusters).
Originally working in Canada, LaMarche was heard in several animated Sesame Street segments produced by Canadian animator Jim Miko for season 12. He was the male ants (First: Episode 1478), the owl who compromises with a bluebird (First: Episode 1493), and the father snake making shapes (First: Episode 1506).
LaMarche's earliest cartoon voices were done for Nelvana (specials and their animated feature Rock & Rule) and as Chief Quimby on Inspector Gadget. Moving to Hollywood, he had regular roles on Tiny Toon Adventures (Dizzy Devil), The Critic (Jeremy Hawke and celebrities), Attack of the Killer Tomatoes (Zoltan), Taz-Mania (dad Hugh), Futurama (Kif, Morbo, and others), and Histeria! (George Washington). In addition to the Brain, his Animaniacs roles included pigeon Squit and Wakko's burps and he voiced Yosemite Sam in several Looney Tunes projects (and Pepe LePew in Space Jam). He's done voices, usually celebrity impressions, on The Simpsons and Duckman. Work for Disney includes Mortimer Mouse on House of Mouse and the feature films Wreck-It Ralph, Frozen, and Zootopia (Mr. Big).
Known for his Orson Welles impression (used for the Brain and on The Critic and elsewhere), LaMarche dubbed Vincent D'Onofrio as Orson in Tim Burton's Ed Wood. He succeeded Paul Frees as the voice of Toucan Sam for Kellogg's Fruit Loops.
LaMarche also voiced Baby Animal in several Muppet Babies read-along book-and-audio sets from Western Publishing.
External links