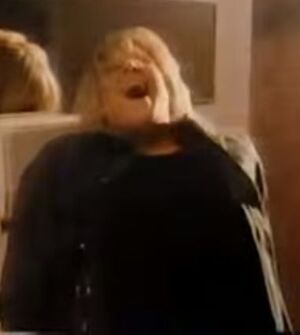 Mavis Vegas Davis, also billed as Mavis Davis and simply Mavis, was the stage name of singer/actress Michelle Aller. She was the regular stage manager for Muppets Tonight (billed as Mavis) and, as Mavis Vegas Davis, received credit for episode 203 as the voice of Theresa, singing "The Coffee Song."
Michelle Aller sang back-up on albums by Dusty Springfield and Cher in the 1970s. She began using the name Mavis Vegas Davis, which she considered her "glitzy alter-ego,"[1] during that time, receiving credit for featured vocals on her 1978 Prisoner album for the the song "Holy Smoke!" (which she co-wrote, billed as Aller). She did similar double duty for the 1978 Rollerboogie film soundtrack (as Michelle Aller for songwriting and Mavis Vegas Davis for performance) and appeared in the 1988 film Salsa.
She later moved into television, largely as a stage manager but occasionally performing, including as a backup dancer in the Minnie Mouse special Totally Minnie and two appearances on the short-lived TV series Hull High as a singing janitor. She was stage manager for Joan Rivers on The Late Show, Saved by the Bell, American Idol, and various specials.
Sources
↑ Kent, Bill. "Name Is Fake But The Songs Are Her Own." Philadelphia Enquirer, January 15, 1993.