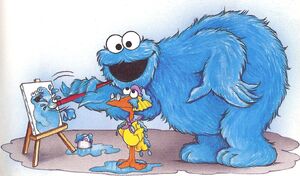 Maxwell Bird is a member of the Birds-of-a-Feather club in the Big Bird StoryMagic book The Colors of Spring. Along with his fellow club members Little Bird, Buddy Bird, Becca Bird, Billy Bird and Holly Bird, Maxwell is attempting to earn his "Know-Your-Colors" badge.
After painting a picture of bees and daffodils, Maxwell is knocked over by Cookie Monster while attempting to paint a picture of Cookie Monster. After Cookie Monster spills blue paint over the yellow bird in the accident, Maxwell endures many other accidents throughout the day, until a brief rainstorm blows overhead and turns the bird yellow once again.
Community content is available under
CC-BY-SA
unless otherwise noted.