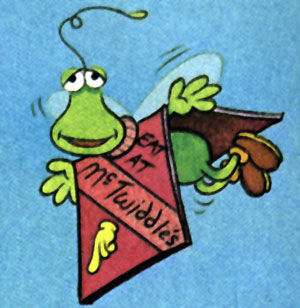 McDonald's is a world-wide fast-food chain known primarily for hamburgers. It has offered a number of Happy Meal toys for kids and other premiums based on Muppet productions such as The Great Muppet Caper, Muppet Babies, Fraggle Rock, Dinosaurs, Muppet Treasure Island and Chicken Dance Elmo.
McDonald's is the title sponsor of the McDonald's Thanksgiving Parade, which has featured Bear in the Big Blue House, Muppet and Sesame Street balloons over the years. McDonald's was also one of the corporate sponsors for Sesame Street for several seasons.
In 1990, McDonald's financed the Cartoon All-Stars to the Rescue TV special that aired simultaneously on NBC, CBS and ABC, and included Baby Kermit, Baby Piggy and Baby Gonzo among other cartoon characters. The same year, McDonald's sponsored a simulcast of the dubbed special in Germany.
In 2003, a German McDonald's commercial used a toy Kermit puppet by Applause to promote the Muppets 25th Anniversary Happy Meal plush.
McDonald's Canada is a sponsor of Waste Reduction Week, which features Sesame Street characters like Oscar the Grouch.
References
Commercials
Premiums
See also