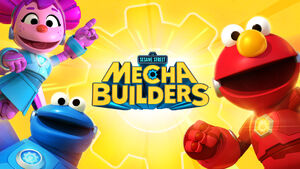 Mecha Builders is an animated Sesame Street spin-off. The series debuted on May 9, 2022 on Cartoon Network's Cartoonito who hold the broadcast television rights, with episodes released the following day on HBO Max for streaming.[1][2] A special preview episode aired on April 30, 2022.
The series is described as featuring "favorite Sesame Street characters as heroes in a robot-animation style."
The series was first announced in October 2019[3] and production started in May 2020.[4] The animation for the series is being produced by Canadian animation studio Guru Studio.[4]
A brief clip of an enlarged Cookie Monster mecha stomping through a city was shown in a Cartoon Network sizzle reel in February 2021 (YouTube). A social media post for New Years 2022 from Sesame Workshop revealed Elmo and Abby Cadabby in the designs used on the series.[5]
Voice Cast
with Alan Aisenberg, Krystina Alabado, Kaitlin Becker, Chris Cafero, Lilli Cooper, Jorge Cordova, Dave Droxler, Jaba Keh, Ezra Knight, Martin P. Robinson, Chanel Umoh, Matt Vogel
Voice Director: Holly Gregory
Credits
Developed by Joe Fallon
Executive Producers: Frank Falcone, Joe Fallon, Olexa Hewryk, Kay Wilson Stallings
Executive Producer, Sesame Street: Benjamin Lehmann
Supervisor Creative Producer: Jordan Geary
Creative Producer: Michael J. Smith
Supervising Producers: Melanie Grisanti, Alia Nakashima
Producer: Vanessa Wong
Associate Producer: Lacey Mason
Head Writer: Joe Fallon
Story Editor: Maxwell Nicoll
SVP of Curriculum and Content: Rosemarie T. Truglio, Ph.D.
Talent Supervisor: Karyn Leibovich
Theme Song Music & Lyrics By

Bud'da

Theme Song Performed By

Eric Bellinger

,

Shanice

Asset Management: Frank Campagna
Sources