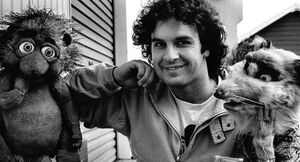 Meet the Feebles is an adult, initially unrated 1989 all-puppet film directed by Peter Jackson. The film, whose title is loosely taken from a line in The Muppet Show theme song, focuses on the backstage activities of a motley animal theater troupe preparing a variety show, much like The Muppet Show. Unlike the Muppet Show, the performers' eccentricities extend to pornography, sexual perversions, drug use, and gang warfare, and acts include a knife thrower with Vietnam flashbacks and a musical salute to sodomy.
The plot follows the troupe as they prepare their first television pilot in the hopes of landing a lucrative syndicated series (a reference to The Muppet Show's success following Lew Grade's backing). The troupe's star, the obese but sensual Heidi Hippo, is a manic-depressive parody of Miss Piggy, and like Piggy, is in love with the producer. Producer Bletch, unlike Kermit, is a lewd walrus who is operating a drug ring and having an affair with a Siamese cat. Various subplots culminate in the jilted Heidi going on a bloody machine gun rampage and slaughtering the majority of the cast. While Jim Henson was not averse to extreme Muppet violence (see Wilkins and Wontkins), Jackson takes it further in a tour de force of puppet bloodletting.
When interviewed by SFX magazine in 1993, Jackson was asked whether Meet the Feebles was a parody of The Muppet Show. According to Jackson, "No, actually not. I'd like to view it as a satire of human behaviour. Imagine a scenario where the Muppets just finished a TV-show. What would happen if they went backstage and behaved like normal people, smoking, drinking and having sex?" However, one scene does depict the rabbit character Harry praying to a religious icon which bears a striking resemblance to Kermit the Frog.