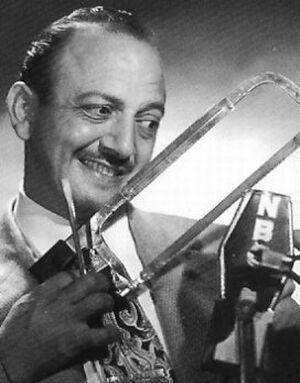 Mel Blanc (1908-1989) was a prolific voice actor in radio, animation, and television, best known for vocalizing Bugs Bunny, Daffy Duck, Sylvester, and other Looney Tunes characters. He began his career in old-time radio, becoming a prime supporting player on such comedy series as Burns and Allen (as the Happy Postman), The Judy Canova Show (as Pedro), and especially The Jack Benny Program (as Carmichael the polar bear, Professor LeBlanc, the train announcer, Polly the parrot, and countless others).
Beginning in the 1950s, Blanc reprised many of his Benny characters on television, where he also worked extensively for Hanna-Barbera, playing Barney Rubble and Dino on The Flintstones. In 1975, he appeared on-camera in an American Express ad, commenting on his unique combination of celebrity, for his characters, and anononymity, as himself. A similar spot was filmed with Jim Henson.
Mel Blanc's voice was heard in an episode of Sam and Friends where his recording of Stan Freberg's "Money" was lip-synched to.[1]
In 1982, he reprised his cartoon roles of Sylvester and Tweety on The Ronald McDonald All-Star Party album, which also featured the Sesame Street characters. Though Blanc died in 1989, archival recordings of his vocal effects as Dino were used in the Creature Shop productions The Flintstones and The Flintstones in Viva Rock Vegas.
External links
Sources