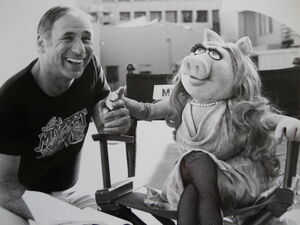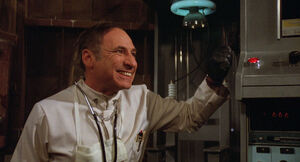 Mel Brooks (b. 1926) is a comic writer, director, and actor, who is one of the few individuals to have won an Emmy, Grammy, Tony, and Academy Award. Brooks made a cameo appearance in The Muppet Movie as Professor Krassman, as well as a vocal cameo in It's a Very Merry Muppet Christmas Movie as the voice of the narrator Joe Snow.
He made a very brief appearance in the 1979 special The Muppets Go Hollywood. In 2005, Jim Henson's Creature Shop provided animal effects for the film version of Brooks' musical The Producers, in which Brooks appeared as himself (in addition to supplying animal sounds).
For his feature films, Brooks developed his own repertory company of actors, which included Dom DeLuise, Harvey Korman, Marty Feldman, Cloris Leachman, Madeline Kahn, and Gene Wilder. With this company of actors, Brooks' went on to spoof many genres of film including Westerns (with Blazing Saddles), horror films (Young Frankenstein and Dracula: Dead and Loving It), Hitchcock films (High Anxiety), swashbucklers (Robin Hood: Men in Tights), Slient Films (Silent Movie), and Star Wars/Star Trek sci-fi movies (Spaceballs). Aside from his company of actors, his films also incorporated many of the same gags, including a Vaudeville routine which became a staple of his films, "Walk this way."
On Broadway, Brooks reworked two of his most popular films into musicals, The Producers (with Nathan Lane and Matthew Broderick) and Young Frankenstein (with Roger Bart, Andrea Martin, and Megan Mullally).
While appearing together on the Perry Como Variety Show, Brooks met and later married actress Anne Bancroft. Other credits include guest stints on Frasier, The Electric Company, Rowan & Martin's Laugh-In, and Hollywood Squares. Brooks also co-created and produced the Robin Hood parody series When Things Were Rotten with Sesame Street writer Norman Stiles and Electric Company writer John Boni.
He was written a cameo in The Muppets where he plays himself at McChow's, but it did not appear in the final film (whether Brooks turned it down or it was cut before the final draft is unclear).[1]
References
Mel Brooks' film History of the World, Part I has been referenced three times by the Muppets:
A "Theater in the Park" segment from Sesame Street ends announcing an upcoming production of "Queen Alexandra and Murray," a fictional Shakespeare play created by Brooks as part of his "2,000 Year Old Man" routine with Carl Reiner on their album, 2000 and One Years with Carl Reiner & Mel Brooks.
External links
Sources