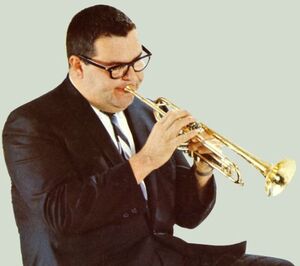 Mel Davis (1931-2004) was a trumpeter who played in the Sesame Street house band, originally under Joe Raposo, and continuing for more than 17 years.[1] He was heard on most Sesame Street albums, including playing on Big Bird Discovers the Orchestra for trumpeter Flip Flunkit. His horn playing was featured on "Google Bugle" and for Wolfgang the Seal in "Antarctica!"
Davis played club dates before serving a stint as first trumpet in Benny Goodman's band in the 1950s. Afterwards, he worked steadily as a sideman, backing Perry Como, Billie Holiday, Lena Horne, Tony Bennett, the Four Lads, and others. He played trumpet on The Tonight Show under Skitch Henderson in the 1960s. He worked with Raposo again on The Electric Company (including the trumpet solo on the closing theme) and joined many fellow Sesame musicians on The Great Space Coaster. In film, he played on the soundtracks for The Wiz, Purple Rose of Cairo, and The Glass Menagerie. Some of his own recorded albums include Trumpet with a Soul (1956), "Shoot" the Trumpet Player (1963), The Big Ones of '66 (1967), and Music for Weight Watches (1968).
Discography
External links
Sources
↑ Associated Musicians of Greater New York. Requiem. March 2005.
Community content is available under
CC-BY-SA
unless otherwise noted.