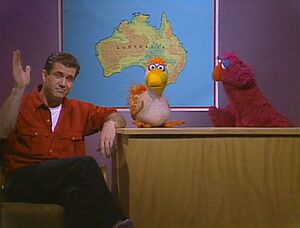 Mel Gibson (b. 1956) is an actor, director, producer and screenwriter. He's well-known for his action movie roles in the Mad Max and Lethal Weapon series, and he directed and starred in the Academy Award-winning Braveheart. In 2004, he directed and produced The Passion of the Christ, a controversial but successful film that portrayed the last hours of the life of Jesus Christ.
Gibson recorded several sketches for Sesame Street in the early 1990s, including two "Monsterpiece Theater" skits.
"Monsterpiece Theater": Gibson and co-star Danny Glover star in Lethal Weapon 3. Gibson and Glover read a sign that says DANGER. Suddenly, they duck and take cover from a gigantic stone number 3 which falls from the sky. (First: Episode 3012)
"Monsterpiece Theater": Gibson stars as Hamlet, looking at a book and reading "words, words, words." Elmo can't read yet, so he looks at "pictures, pictures, pictures." (First: Episode 3047)
A clip of the Hamlet sketch was included in the 1994 special Stars and Street Forever
References
External links
Community content is available under
CC-BY-SA
unless otherwise noted.