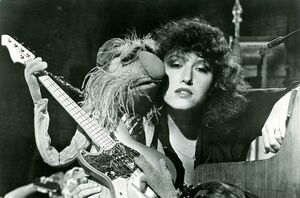 Melissa Manchester (b. 1951) is a singer-songwriter who guest starred on The Muppet Show episode 512. She also sang back-up vocals for the album Dinah! I've Got a Song.
Her hits include "Don't Cry Out Loud" and "You Should Hear How She Talks About You". She contributed a song to Disney's The Great Mouse Detective (1986).
Manchester recorded "Through the Eyes of Love" (the theme for the film Ice Castles) and "I'll Never Say Goodbye" (the theme for the film The Promise), which were both nominated for the Academy Award for Best Original Song against "Rainbow Connection". She performed both songs at the 52nd Annual Academy Awards ceremony in 1980.
Manchester won the 1982 Grammy for Best Female Vocal Performance.
Mentions
A publicity photo of Manchester and Floyd Pepper from her appearance on The Muppet Show was used in her 2020 music video for "Midnight Blue." (YouTube)
External links