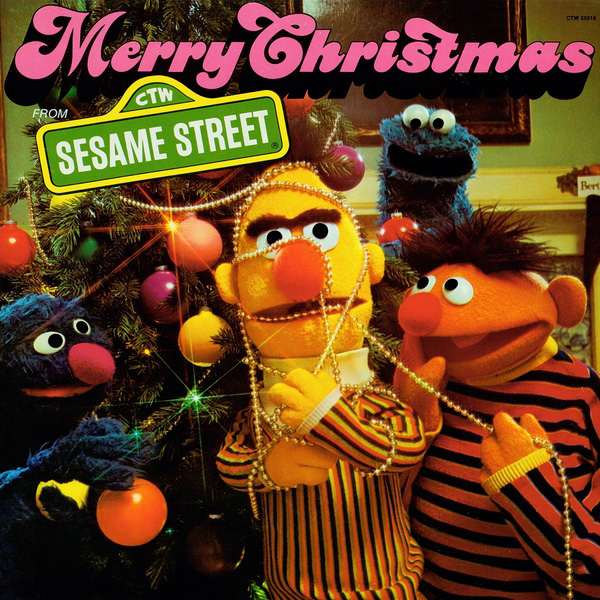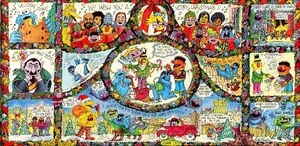 Merry Christmas from Sesame Street, released in 1975, was Sesame Street's very first holiday-related album. It was nominated for a Grammy Award for Best Recording for Children, but lost to The Little Prince. Some of the songs and stories were used in the special, Christmas Eve on Sesame Street, three years later. The album was partially re-released in 1995 as A Sesame Street Christmas, although some of the tracks were altered to remove characters who were no longer on the show, and replace them with newer characters.
Track listing
Side One
Sesame Street Christmas Overture - The Sesame Street Festival Orchestra
We Wish You a Merry Christmas - The Company
Medley - The Company
Deck the Halls - Herry Monster, Bert, Ernie, Prairie Dawn and the Count
Jingle Bells - Herry Monster, David and Gordon
White Christmas - Bob, Susan and Mr. Hooper
Winter Wonderland - Big Bird
A Christmas Story - Mr. Hooper, Ernie, and Bert
Have Yourself a Merry Little Christmas - Bert and Ernie
The Twelve Days of Christmas - Cookie Monster, Hardhead Henry Harris, Prairie Dawn, Grover, Bert, Ernie, Big Bird, Smart Tina, Herry Monster and Snuffle-upagus
Side Two
Medley - The Company
It's Beginning to Look a Lot Like Christmas - Big Bird
Silver Bells - Susan and Gordon
The Christmas Song - Bob
Santa Claus is Coming to Town - Grover
Saludo (aguinaldo) - Luis and Maria
Arrurru - Luis and Maria
(All I Want for Christmas Is) My Two Front Teeth - The Count
A Christmas Pageant - Prairie Dawn, Ernie, Bert, Herry Monster, and Cookie Monster
Keep Christmas With You (All Through the Year) - Susan, Gordon, Big Bird, Luis, David, Bob, Prairie Dawn and Ernie
We Wish You A Merry Christmas (reprise) - Big Bird, Mr. Hooper, Oscar and Everyone
Note
Although the front cover says "Merry Christmas from Sesame Street", the spine of the album says "Sesame Street Merry Christmas", and the label just says, "Merry Christmas".
Other releases
See also
Community content is available under
CC-BY-SA
unless otherwise noted.