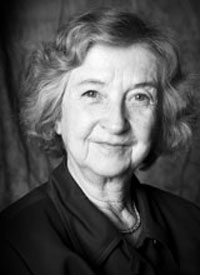 Meta Velander (b. 1924), born Eva Margareta Velander, is a Swedish actress who played Gladys Besk on Svenska Sesam, the Swedish co-production of Sesame Street.
Velander started acting as an amateur, when she was a child. After training as a secretary, she began studying professional acting. She has been employed at Stockholm city theater since 1960, most recently playing Madeleine Palmer in the Swedish translation of The Breath of Life in 2005.
She made her movie debut in 1945 in the Swedish movie Kungliga patrasket as an autograph hunter, and has since appeared in 20 more Swedish films.
She was married to the Swedish actor Ingvar Kjellson until his death in 2014.
External links