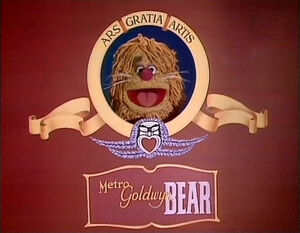 Metro-Goldwyn-Mayer (abbreviated as MGM) is a movie producer and former distributor.
The studio became famous for its mascot Leo the Lion, whose roar opened nearly every film (2001: A Space Odyssey being one exception). This was spoofed by Uli von Bödefeld in Sesamstrasse's season 1 outtakes reel, Fozzie Bear in The Muppets Go to the Movies, Animal in The Great Muppet Caper, Chicago in Sesame Street Episode 2911, Big Bird in A Brief History of Motion Pictures, and sheep Wolle on German co-production Sesamstrasse's first TV-movie Das Geheimnis der Blumenfabrik.
A Sesame Street parody intro (for The Lion King) was introduced as a "Walt Dizzy Film," with a small Warner Bros.-like logo below, and an MGM-like bannered circle with a chicken in the spot of the studio's trademark lion.
Gallery
Films Distributed
Notes
See also
External links