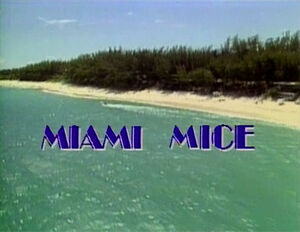 Miami Mice is a Sesame Street parody of the 1980s cop drama Miami Vice. The recurring sketch features two fashion-conscious mouse detectives, Tito and J.P., parodying the two main characters in Miami Vice.
Street Scenes
Sketches
Picture
First Appearance
Description

Episode 2200
Kermit Interviews the Mice

Kermit tries to interview the mice about adventure, but finds it difficult to continue the interview when he's interrupted by a jet plane, an animal stampede, and a giant monster all making their way through the office. Kermit then assumes a bell ringing means the mice are about to embark on another adventure, but it's actually to signal the end of the mice's shift.

This segment was filmed on January 3, 1986 and directed by Emily Squires.[1]

Episode 2209
Ernie's Rubber Duckie at the Repair Shop

Ernie goes to a repair shop to pick up his broken Rubber Duckie, but he can't get into the shop because it's cerrado (closed in Spanish).

Episode 2344
The Space Center

Tito and J.P. help the Count von Count to get to the space center, so he can do the countdown. The trip gets delayed when The Count mistakenly opens the closet door and decides to count their wardrobe. The mice distract him from counting the wardrobe by pointing out the high number of palm trees on the way to the space center.
Notes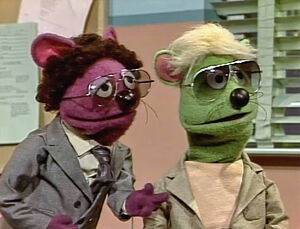 On Sesamstrasse, the German co-production of Sesame Street, the mice were dubbed by the original German dubbing voices of Don Johnson and Philip Michael Thomas (Reet Reeins and Lutz Mackensy respectively). Sesame Street and Miami Vice were both dubbed in the same studio, Studio Hamburg, where the Sesamstrasse live segments were also shot.
Sources
See also
The "Miami Mice" title was also used for a parody comic in the Spring 1986 issue of Muppet Magazine with Muppet Show characters.