m

 

Line 4:
Line 4:
 

Bardollet's other dub credits include [[Joan Collins]] on ''[[Dynasty]]'', June Whitfield on ''[[Absolutely Fabulous]]'', and C.C.H. Pounder on ''The Shield''.

 

Bardollet's other dub credits include [[Joan Collins]] on ''[[Dynasty]]'', June Whitfield on ''[[Absolutely Fabulous]]'', and C.C.H. Pounder on ''The Shield''.

 
 
 
+

__NOWYSIWYG__

 

{{DEFAULTSORT:Bardollet, Michele}}

 

{{DEFAULTSORT:Bardollet, Michele}}

 

[[Category:International Voice Actors]]

 

[[Category:International Voice Actors]]
---
Latest revision as of 21:41, 22 September 2018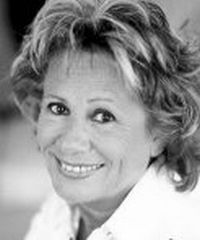 Michèle Bardollet is a French voice actress who was heard in the French co-production of Fraggle Rock (as Marjory the Trash Heap and Ma Gorg) and the French dub of Farscape (as Noranti). She also dubbed Mrs. Hoggett in Babe and Irma P. Hall in The Ladykillers.
Bardollet's other dub credits include Joan Collins on Dynasty, June Whitfield on Absolutely Fabulous, and C.C.H. Pounder on The Shield.
Community content is available under
CC-BY-SA
unless otherwise noted.