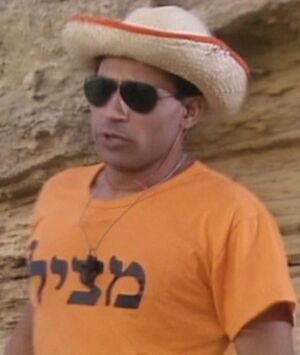 Micha Uzin-Salian (b. 1962), known as Micha Morim prior to 2010, is an Israeli actor and voice artist. He appeared on Shalom Sesame in a 1990 episode, "Journey to Secret Places," as a lifeguard who encounters Kippi Ben Kippod and friends. Years later, he voiced Rowlf and Statler in the Hebrew dub of The Muppets as well as Muppets Most Wanted.
Usually credited as Michael Morim, the actor appeared in several English-language film and TV projects in the 1990s, including Not Without My Daughter (with Sally Field), American Samurai (as a Turkish police chief), Delta Force 3, and two episodes of the BBC series Love Hurts (with Zoë Wanamaker). Israeli credits include the 2004 film Turn Left at the End of the World and several TV roles.
In Hebrew dubs of animation (often as villains or authority types), Uzin-Salian voiced Pete in various Mickey Mouse projects, Pepe Le Pew in Looney Tunes, Bluto in Popeye shorts, Lex Luthor and Jor-El on Superman, Kingpin and Dr. Curt Connors on Spider-Man, Modo on Biker Mice from Mars, the title role in The Iron Giant, and the narrator in The Black Cauldron. Live-action dubs include the Sorting Hat in the first two Harry Potter movies, George Harris in Harry Potter and the Order of the Phoenix, Danny Trejo in Spy Kids and Spy Kids 2, Sylvester Stallone in Spy Kids 3D: Game Over, Richard Roundtree in Speed Racer, and George Hamilton in Casper Meets Wendy.
External links
IMDb (credits as Micha/Michael Morim)
Community content is available under
CC-BY-SA
unless otherwise noted.