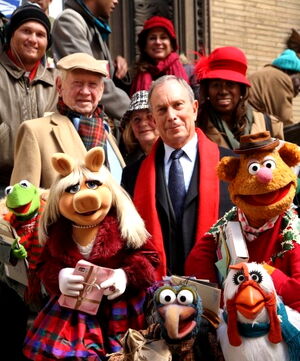 Michael Bloomberg (b. 1942) is an entrepreneur and politician who served as the mayor of New York City from 2002 to 2013.
Bloomberg made a cameo appearance in the 2008 Christmas special, A Muppets Christmas: Letters to Santa. He emerges from the crowd when Miss Piggy complains about the length of the line they are in and demands to see the mayor. When she demands that he take her to the front of the line, Mayor Bloomberg replies that would be rude, "and the one thing we New Yorkers are known for is being polite!" "What has he done to this city?" Miss Piggy remarks after he leaves.
In 2009, Mayor Bloomberg was honored at the Annual Sesame Workshop Benefit Gala for his administration's role in education.
A Mayoral Proclamation from Mayor Bloomberg, bestowed by the City of New York, proclaimed November 10, 2009 Sesame Street Day.
As an ambassador for the city, Bloomberg has often appeared as himself on television shows ranging from the Law & Order franchise to the Late Show with David Letterman.
For the Jim Henson's Fantastic World exhibit at The Museum of the Moving Image, Mayor Bloomberg lent his Muppet likeness to be displayed at the museum.
On April 13, 2012, Bloomberg proclaimed the Muppets as the NYC Family Ambassadors of 2012.[1]
Sources
External links