(9 intermediate revisions by one other user not shown)
Line 1:
Line 1:
−

[[Image:Bolton_and_elmo.JPG|thumb|300px|Michael Bolton and Elmo at the Toys R' Us Childrens Fund 18th Annual Benefit Dinner in 2003.]]

+

[[Image:Bolton_and_elmo.JPG|thumb|300px|Michael Bolton and Elmo at the Toys R' Us Fund 18th Annual Benefit Dinner in 2003.]]

 
 
 

'''Michael Bolton''' (b. 1953) is a [[Grammy Awards|Grammy Award]]-winning American singer-songwriter.

 

'''Michael Bolton''' (b. 1953) is a [[Grammy Awards|Grammy Award]]-winning American singer-songwriter.

 
 
−

He appeared with [[Elmo]] and [[Kevin Clash]] on the red carpet for the 18th Annual Toys R' Us Children's Fund Benefit Dinner in 2003.

+

He appeared with [[Elmo]] and [[Kevin Clash]] on the red carpet for the 18th Annual Toys R' Us Children's Fund Benefit Dinner in 2003.

 
 
−

Bolton has written songs for [[Kenny Rogers]], Barbra Streisand, [[Patti LaBelle]], and has performed with [[Celine Dion]], [[Plácido Domingo]], [[Ray Charles]] and [[José Carreras]].

+

Bolton has written songs for [[Kenny Rogers]], Barbra Streisand, [[Patti LaBelle]], and has performed with [[Celine Dion]], [[Plácido Domingo]], [[Ray Charles]] and [[José Carreras]].

 
 
−

Other credits include performing on ''[[A Capitol Fourth]]'', appearing as himself in ''[[Snow Dogs]]'' and guest hosted on ''[[Saturday Night Live]]''.

+

credits include performing on ''[[A Capitol Fourth]]'', appearing as himself in ''[[Snow Dogs]]'' and ''[[ ]]''.

 
+
 
+

<gallery widths=200px>

 
+

Bolton2.JPG|Michael Bolton with Elmo at the Sesame on Seventh benefit in 1998

 
+

</gallery>

 
 
 

==External links==

 

==External links==

Line 14:
Line 18:
 
 
 

{{wikipedia}}

 

{{wikipedia}}

 
+

__NOWYSIWYG__

 

{{DEFAULTSORT:Bolton, Michael}}

 

{{DEFAULTSORT:Bolton, Michael}}

 

[[Category:Celebrities]]

 

[[Category:Celebrities]]
---
Latest revision as of 03:41, 5 January 2019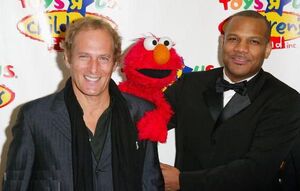 Michael Bolton (b. 1953) is a Grammy Award-winning American singer-songwriter.
He appeared with Elmo and Kevin Clash on the red carpet for the 18th Annual Toys R' Us Children's Fund Benefit Dinner in 2003, and also was photographed with Elmo at a Sesame Workshop event in 1998.
Bolton has written songs for Kenny Rogers, Barbra Streisand, Patti LaBelle, and has performed with Celine Dion, Plácido Domingo, Ray Charles, and José Carreras.
His other credits include performing on A Capitol Fourth and Saturday Night Live, and appearing as himself in Snow Dogs and Fresh Off the Boat.
External links