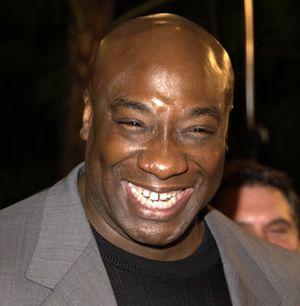 Michael Clarke Duncan (1957-2012) was an Academy Award-nominated actor who voiced Sam the sheepdog in the Creature Shop-effects film Cats & Dogs.
Duncan made a few minor film and TV appearances, usually as bouncers or guards due to his imposing frame, before his turn in The Green Mile (1999) as John Coffey, which garnered a Best Supporting Actor nomination and proved to be his breakout role. Other on-camera film credits include Armageddon, Planet of the Apes, Daredevil (as the Kingpin), Sin City, and Talladega Nights: The Ballad of Ricky Bobby.
As a voice actor, he has been heard in Racing Stripes and Green Lantern (as Kilowog); the animated features Delgo, Kung Fu Panda, and Disney's Brother Bear; the animated series King of the Hill, Family Guy (in which he performed the voice of Fozzie Bear), Loonatics Unleashed, and Teen Titans; and various video games.
External links