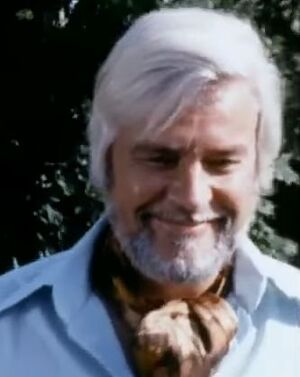 Michael Cramer (1930-2000) was a German actor who voiced Doc Hopper in the German dub of The Muppet Movie. He also dubbed guest stars on Die Muppet Show, such as Kenny Rogers and James Coburn.
Cramer entered German films in the 1950s, often playing cheerful young men in comedies, and also appeared in the French Brigitte Bardot vehicle Babette Goes to War (1959). Cramer made the occasional sex comedy, such as The Bellboy and the Playgirls, notable chiefly for new American footage directed by Francis Ford Coppola. In 1973, he played a German colonel in the Richard Burton WWII movie The Battle of Sutjeska. He guest starred on the TV series Paul Temple, Interpol, and Graf Yoster, among others.
He dubbed George Peppard in Breakfast at Tiffany's and others, Clint Eastwood in Coogan's Bluff and High Plains Drifter, Tony Curtis in Blake Edwards' The Great Race, Gordon Jackson in Cast a Giant Shadow, and Jack Warden in While You Were Sleeping. For TV, he dubbed Judd Hirsch on Taxi, guest characters on Poirot, and Fred Willard on an episode of Married with Children.
External links