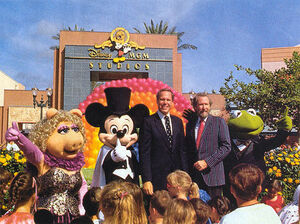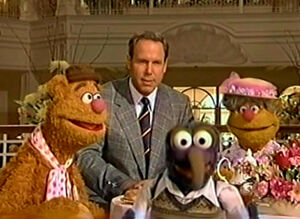 Michael Eisner (b. 1942) is the former chairman (1984-2004) and chief executive officer (1984-2005) of The Walt Disney Company.
Eisner first worked with Jim Henson in the 1970s when Eisner was president of ABC. Under his leadership, the network aired the specials The Muppets Valentine Show and The Muppet Show: Sex and Violence. As host of The Wonderful World of Disney, he has appeared with the Muppets providing an introduction to several specials including John Denver and the Muppets: A Christmas Together, The Muppets at Walt Disney World and The Muppets' Wizard of Oz.
In late 1989 and early 1990, Eisner orchestrated the first attempted buy-out of The Jim Henson Company, but the deal fell through after Jim Henson's death. Still interested in Henson for many years, he made several other attempts to buy the company, including when EM.TV had put it up for sale in the early 2000's. Eisner finally succeeded in having Disney buy The Muppets (as well as Bear in the Big Blue House) from the Henson company in 2004, which led to the creation of the Muppets Holding Company (now known as The Muppets Studio), the Disney subsidiary under which the Muppets are managed.
In March 2004, Eisner was removed as Chairman of Disney. He resigned as CEO in the fall of 2005 and was succeeded by Robert Iger.
References
External links
Community content is available under
CC-BY-SA
unless otherwise noted.