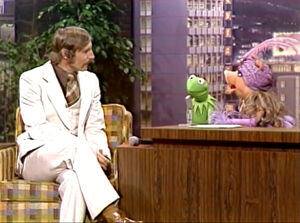 Dr. Michael Fox is a veterinarian and psychologist who was a frequent guest on The Tonight Show starring Johnny Carson. From Britain, he had been described as "equal parts absent-minded professor and Peter Pan". He was a regular contributor to McCall's magazine, and his pet advice is syndicated in 180 papers.
On the April 2, 1979 broadcast of The Tonight Show, Dr. Michael Fox talked with Kermit and Miss Piggy. Dr. Fox told the couple, "I would advise some genetic counseling. You know, a pig and a frog could give rise to all kinds of strange things." Miss Piggy said "Yes, I'm hoping so." Kermit replied "Yeah, bouncing baby figs... or pogs." Later, after Dr. Fox described the mating habits of frogs, Piggy responded "Oh, I'd better remember that!"
See also
External links
Community content is available under
CC-BY-SA
unless otherwise noted.