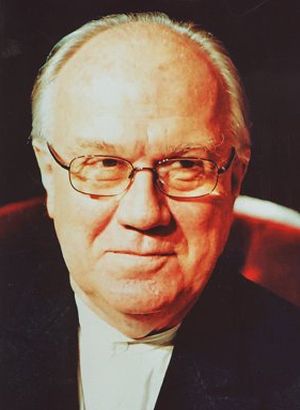 Michael Gahr (1939-2010) was a German character actor and voice artist who dubbed human actors in a few Muppet projects. He dubbed guest star Dizzy Gillespie on Die Muppet Show (The Muppet Show), Squire Trelawney's butler in Muppets Die Schatzinsel (Muppet Treasure Island), and General Luft in Muppets aus dem All (Muppets from Space).
Working primarily out of Munich, Gahr appeared occasionally in English language films or international co-productions, most notably in Willy Wonka and the Chocolate Factory as the German reporter covering Augustus Gloop's golden ticket. He had a small role in The Odessa File (with Jon Voight) and appeared in the 1988 American TV movie The Great Escape II (as Hermann Goering), the French film Ace of Aces (as another Nazi), and an entry in the Israeli Lemon Popsicles film series. Notable German language films include Werner Herzog's Stroszek and Michael Verhoeven's The Nasty Girl. He was a busy actor in German theater and television, including frequent guest roles on the long-running crime series Der Alte, Derrick, and Tatort (several times as Brinkmann's boss Kriminaldirektor Marbach in Frankfurt episodes, and in other roles).
In dubbing, Gahr was the German voice of Christopher Lloyd in The Addams Family, the station guard in the first two Harry Potter films, Todd Bryant in Star Trek 5, John Candy in National Lampoon's Vacation, Philip Baker Hall in Enemy of the State, Graham Crowden in For Your Eyes Only, and Pat Roach in Return of the Musketeers. For television, he dubbed Fred Dalton Thompson in the Law & Order franchise, George Little and others on Poirot, and guest stars on Columbo. Animation dub roles included Bloat in Finding Nemo, the Mayor in The Nightmare Before Christmas, Lord Dregg on Teenage Mutant Ninja Turtles, and Grandpa on Caillou.
External links