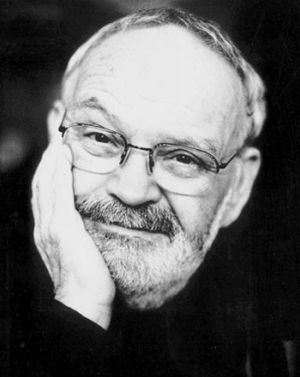 Michael Habeck (1944-2011) was a German actor who dubbed many Muppet roles over the years, including Lew Zealand and others on Die Muppet Show, Baby Fozzie in the German dub of Muppet Babies, and Dr. Bunsen Honeydew in Muppets from Space. Most notably, he dubbed the voice of Ernie on Sesamstrasse from 2001 to 2006.
Habeck's other dub credits include Oliver Hardy in dozens of Laurel and Hardy sound shorts and features (a part previously dubbed by the original German Ernie, Gerd Duwner), Danny DeVito in Taxi and such films as The Virgin Suicides, the Daleks in the 2000s version of Doctor Who, John Candy in Stripes, John Leguizamo in Spawn, Graham Stark in Revenge of the Pink Panther, Deep Roy in The Neverending Story, and Dobby the elf in two Harry Potter movies. His animation credits included various roles in the Asterix films, Dr. Nick Riviera on The Simpsons, Deep Purple in the original German animated feature Felidae, Sam in Bakshi's The Lord of the Rings, Mr. Ages in The Secret of NIMH, Porky Pig in the later Looney Tunes dubs, Barney Rubble on The Flintstones, and Hamton on Tiny Toon Adventures.
Habeck's on-camera credits include a 1974 German TV version of Shakespeare's Macbeth, the English-language film The Name of the Rose (as Berenger the monk), the 1988 TV version of The Bourne Identity (as "the fat man"), The Great Escape II: The Untold Story (with Christopher Reeve and Judd Hirsch), and the Canadian-German co-production Lexx (as the villainous Feppo) as well as appearances on Tatort and Der Kommissar.
Muppet dub credits
External links
Community content is available under
CC-BY-SA
unless otherwise noted.