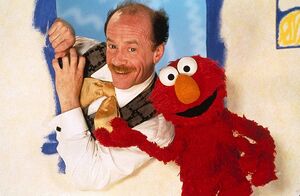 Michael Jeter (August 26, 1952 - March 30, 2003) was a multi-talented Emmy and Tony Award winning character actor of stage and screen. He played Mr. Noodle's brother Mr. Noodle in the Elmo's World segments of Sesame Street, beginning in 2000.
Jeter received critical acclaim for his role as the homeless cabaret singer in The Fisher King, co-starring Robin Williams. He also appeared in The Green Mile as condemned prisoner Eduard Delacroix, co-starring James Cromwell. In television, he was a regular on the Burt Reynolds sitcom Evening Shade as assistant football coach Herman Stiles, for which he won an Emmy.
He received a Tony Award for his role as Otto Kringelein in the Broadway adaptation of Grand Hotel.
Other Sesame Street Appearances
Note
External links