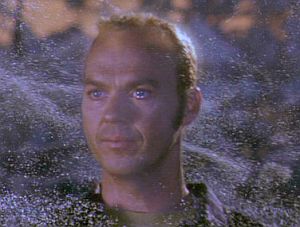 Michael Keaton (b. 1951) is a noted movie actor who starred as the title character in the 1998 film Jack Frost, appearing briefly on-camera and providing the voice for his snowman incarnation, created by Jim Henson's Creature Shop. In 1990, he was one of many celebrities, including Kermit the Frog, who appeared in The Earth Day Special.
Keaton's early career began in the 1970s in his native Pittsburgh, working on Mister Rogers' Neighborhood as stagehand and occasional on-camera actor. This was followed by guest roles an such series as Maude, regular roles on several short-lived sitcoms, and a stint as part of the ensemble on Mary Tyler Moore's 1978 variety series Mary. By the 1980s, he'd established himself as a movie star, playing leading roles for such directors as Ron Howard (in Night Shift, Gung Ho, and The Paper) and Tim Burton (as the title characters in Beetlejuice, Batman, and Batman Returns). Other credits include Mr. Mom, Kenneth Branagh's Much Ado About Nothing (as Dogberry), Quentin Tarantino's Jackie Brown, White Noise, and Pixar's Cars and Toy Story 3.
References
External links
Community content is available under
CC-BY-SA
unless otherwise noted.