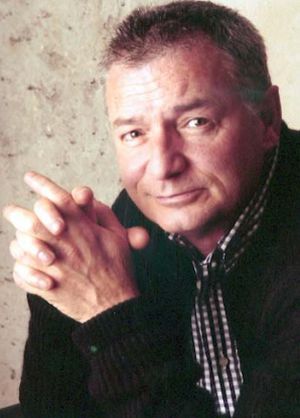 Michael Pan (b. 1952) is a German voice actor who dubbed Luc Fromage in Das Grösste Muppet-Weihnachtsspektakel aller Zeiten and the Prado museum guard in the German dub of Muppets Most Wanted. He also dubbed Groove on Die Hoobs (The Hoobs), Ferdinand in Babe, and Fiend on Me and My Monsters.
Usually dubbing comedians and character actors, Pan has been the German voice of Martin Short in most projects, including the Creature Shop-effects films Merlin (Frik) and Alice in Wonderland (the Mad Hatter). He also dubbed Brent Spiner on Star Trek: The Next Generation and in Independence Day, Richard Kind on Spin City and in The Producers and others, David Hyde Pierce on Frasier, Bob Balaban in Gosford Park, William H. Macy in Seabiscuit, Bill Irwin in Subway Stories, Michael Jeter in Air Bud, and Jay Mohr in Paulie.
Cartoon characters include Iago in the Aladdin sequels and spin-offs, Boris in Balto, the lead dodo in Ice Age, the French narrator and Patchy the Pirate on SpongeBob SquarePants, Chicken on Cow and Chicken, the Cat in the Hat in The Cat in the Hat Knows a Lot About That, Mojo Jojo on Powerpuff Girls, Sylvester on The Looney Tunes Show, and various anime roles.
On-camera, Pan appeared in episodes of Tatort, several Christmas musicals, and TV versions of Caesar and Cleopatra (as Ptolemy) and Don Juan. In audio books, he played Colonel Moran and others in Maritim's Sherlock Holmes series.
External links