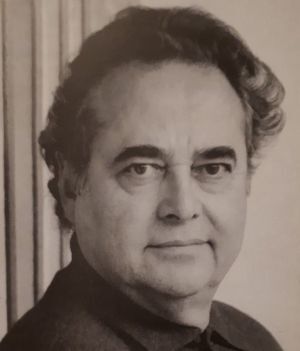 Michael Rüth (b. 1938) is a German voice actor who dubbed Rowlf in Die Muppet Show and the German versions of The Muppet Movie, The Great Muppet Caper, The Muppets Take Manhattan, and A Muppet Family Christmas. He has also dubbed other Muppet characters, such as Howard Tubman (renamed Howard Schinkenschmitz).
Voicing Rowlf again in Die Muppets, he was one of only three remaining voice artists to reprise their original Die Muppet Show roles (the other two being Christina Hoeltel as Scooter and Donald Arthur as Beauregard and Uncle Deadly).
Rüth's other dub credits, largely in animation, include the German voice of Winnie the Pooh in the later films, Grandpa and Barney Gumble on The Simpsons, Mr. Garrison in South Park, various parts in the Asterix features, and two of John Ratzenberger's roles in Pixar films: Hamm in the Toy Story movies and P. T. Flea in A Bug's Life.
Rüth dubbed character actors Ian McNeice (in three films), Jon Polito in Flags of Our Fathers, Glenn Shadix in Sleepwalkers, Jaime Sánchez in Carlito's Way, Stuart Pankin on Knot's Landing, Patrick Newall as Mother on The Avengers, and multiple guest actors on The Incredible Hulk and Doctor Who. On-camera, he appeared in the English-language Thomas Gottschalk comedy Driving Me Crazy (with Dom DeLuise).
Muppet dubbing credits
Community content is available under
CC-BY-SA
unless otherwise noted.