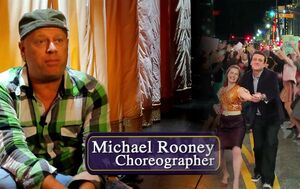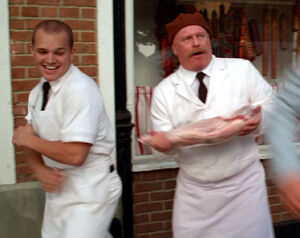 Michael Rooney (b. 1962) choreographed and staged the new musical numbers in the 2011 feature film The Muppets. He appeared in the film as the Smalltown, USA butcher singing "life's a leg of lamb" during the "Life's a Happy Song" musical number. In 2017, he choreographed the dancers for The Muppets Take the Bowl stage event.
He is the son of Mickey Rooney, who had a cameo in one of the sequences choreographed by the younger Rooney. According to James Bobin, Michael Rooney had been repeatedly calling Mickey Rooney "Dad" on set. Finally, Bobin said, "You know, just because he's old, doesn't mean you should call him dad." Rooney replied, "But he actually is my dad." [citation needed]
ooney's other choreography credits include musical sequences in the films 500 Days of Summer and Clerks II, plus Dancing with the Stars. His work in countless music videos, commercials, and live stage appearances include collaborations with such performers as Kylie Minogue, Spice Girls, Bette Midler, Dolly Parton, Paula Abdul, and Michael Jackson.
External links