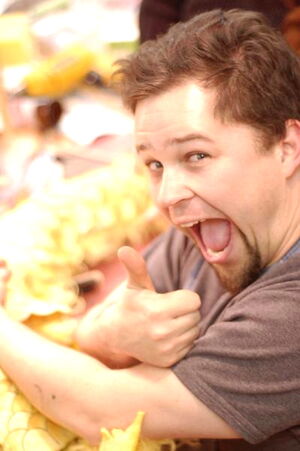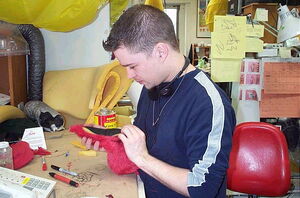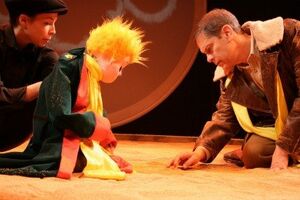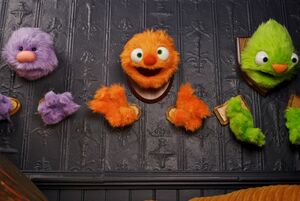 Michael Schupbach (b. March 27, 1977) has worked as a puppet builder, designer, and wrangler on Bear in the Big Blue House and Sesame Street. Beginning his Muppet career as an assistant during the first season of Bear in the Big Blue House, Schupbach soon moved to Sesame Street, where he became on-set puppet supervisor and a member of the NY Muppet Workshop. He is featured in the documentary I Am Big Bird: The Caroll Spinney Story detailing the specifics of what is involved wrangling Big Bird as well as working with Caroll Spinney.
His post Muppet credits include making puppets for Greg the Bunny (specifically the Wumpus for the IFC version), Puppet Planet, and building puppets with Rick Lyon for Avenue Q. (Broadway/Vegas Productions), and Martin P. Robinson for Little Shop of Horrors (Broadway). (YouTube)
Schupbach is also one of the creators of Johnny and the Sprites, where he also served as character designer, conceptual designer, and puppeteer.
He is one of the co-founders of the Puppet Kitchen (with Eric Wright and Emily DeCola), a full service puppet design, fabrication, and performance shop in Manhattan. 
Schupbach's Puppet Kitchen credits include: The Little Prince (New Victory/National Tour), Clifford the Big Red Dog Live (National tour), Hamlet (The Public Theater), ImaginOcean (National and International Tours), The Very Hungry Caterpillar Show (International Tour), Losing it With John Stamos (Yahoo Screen), H&M The Breakup (Viral Campaign), and the Oogieloves Big Balloon Adventure.
Performance credits include: The Little Prince (Fox), Imagine Dragons Radioactive Music Video (Head Puppeteer: Bear, Cyclops), Hamlet (Puppeteer Team/Ensemble), H&M The Breakup (Ensemble/Ampersand)
Other design credits include Konjoined kitty a series of designer plush dolls sold in "urban vinyl" stores, and a series of puppet taxidermy heads H.I.D.E. (the House of Imaginary and Dangerous Excursions) available on Etsy.com.
Muppet Credits
External links
Community content is available under
CC-BY-SA
unless otherwise noted.