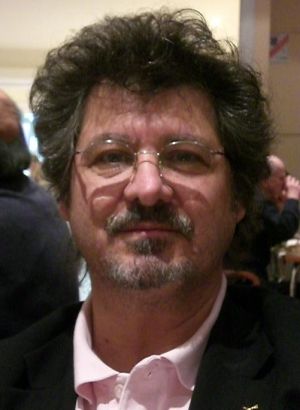 Michel Mella (b. 1950) is a French voice actor and singer who voiced several roles in the French co-production of Fraggle Rock, including Doozers and singing parts. He also dubbed parts in various Muppet movies.
Mella has often dubbed wiseguy actors, including Joe Pesci, Jon Lovitz, Paul Giamatti, Kevin Pollak in Grumpy Old Men and its sequel, and Henry Winkler on Happy Days. He also dubbed Jonathan Silverman in Weekend at Bernies, Gary Morgan in Pete's Dragon, and Michael Richards in UHF. Cartoon roles include Wakko Warner on Animaniacs, Porky Pig and Speedy Gonzales in Looney Tunes projects from the nineties onwards, Bashful in Snow White and the Seven Dwarfs, Hugo in The Hunchback of Notre Dame, Banzai in The Lion King, Rabbit in The Many Adventures of Winnie the Pooh, Pedro in Lady and the Tramp, and Squidward on SpongeBob SquarePants.
Muppet dub credits
External links
Community content is available under
CC-BY-SA
unless otherwise noted.