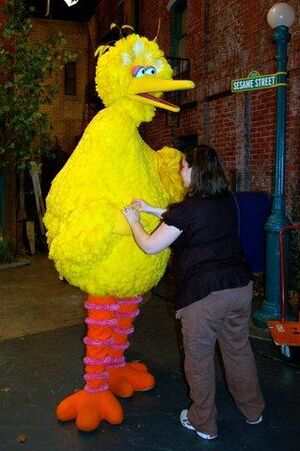 Michelle Hickey is currently a head puppet wrangler on Sesame Street and has also been credited as working with the Muppet Workshop.
Credited as part of "the Green Team", Hickey served as a wrangler for Kermit the Frog's guest host stint on Extreme Makeover: Home Edition. Hickey's credits also include Sesame Beginnings and the non-Henson series Crank Yankers and It's a Big Big World.
She made a cameo appearance in Elmo's Musical Adventure: Peter and the Wolf, appearing in a balcony seat next to Papa Bear and Baby Bear.
In a 2009 interview on her Muppet wrangling duties, Hickey called her position a "dream job" and discussed the amount of work that goes into keeping Big Bird in tip top shape.[1]
Sources