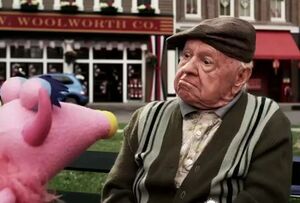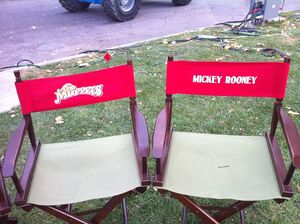 Mickey Rooney (1920-2014) was an American entertainer appearing on film, television and Broadway. He won multiple awards throughout his career, including an Honorary Academy Award, a Golden Globe, and an Emmy Award.
Rooney makes a cameo appearance in 2011's The Muppets, during the number "Life's a Happy Song," choreographed by his son, Michael Rooney. He also featured in the "Mah Na Mah Na" end credits sequence, which was included in the Never-Ending Mahna Mahna Phenomahna.
Rooney first gained fame as a child actor, then as the juvenile lead in MGM's Andy Hardy movie series. During his time as an MGM contract player, he also appeared in classic adaptations such as A Midsummer Night's Dream (1935, as Puck) and The Adventures of Huckleberry Finn (1939, as Huck), as well as a variety of "let's put on a show" musicals (such as 1941's Babes on Broadway, with Judy Garland and Will Lee). Later credits include Breakfast at Tiffany's, Babe: Pig in the City and Night at the Museum (with Dick Van Dyke, Bill Cobbs and Ben Stiller). Television credits include guest spots on ER, Conan. Murder, She Wrote, Full House, The Golden Girls, The Love Boat and The Twilight Zone.
He lent his voice to multiple Rankin/Bass specials (as Santa Claus), Disney's The Fox and the Hound and The Simpsons.
References
External links