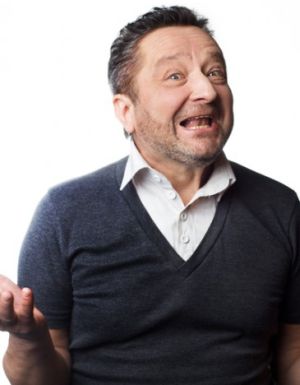 Mieczysław Morański (b. 1960) is a Polish voice actor who dubbed Bert on Bawmy się, Sezamku (Play with Me Sesame), Niezwykłe przygody Berta i Erniego (Bert and Ernie's Great Adventures), and other projects. He also dubbed Dr. Phil Van Neuter and Beaker in Muppety z Kosmosu (Muppets from Space), Frisky on Miasto Piesprawia (Dog City). Ferdinand in Babe, and additional voices in Muppety (The Muppets).
Moranski dubbed Elmer Fudd, Claude Cat, and others in Looney Tunes shorts and Barney Rubble on The Flintstones and various spinoffs. Other cartoon roles include Heathcliff, Jon Arbuckle on Garfield and Friends, the Hooded Claw on The Perils of Penelope Pitstop, Cyril Sneer on The Raccoons, Dogbert on Dilbert, Pyro and Morph on X-Men, and the title role on Freakazoid. Animated feature credits include Sam in Ralph Bakshi's The Lord of the Rings, Honest John in An American Tail, Dr. Finkelstein in The Nightmare Before Christmas, and Kylie in The Fantastic Mr. Fox.
In live-action films, he dubbed many actors or creatures in the Star Wars franchise, including Phil Brown as Uncle Owen in the original, Captain Tarpals in Episode I and Jar Jar Binks, Elan Sleazebaggano, and Lott Dodd in Episode II. He also dubbed Nathan Lane in Frankie and Johnny, Mouse Hunt, and Win a Date with Tad Hamilton, as well as Warwick Davis in two Harry Potter films, Kevin Pollak in The Santa Clause 2, Rob Schneider in Bedtime Stories, and Elie Semoun in Les Dalton. For TV, he dubbed Matthew Perry on Friends, guest actors on The Suite Life of Zack and Cody, and various monsters in the Power Rangers franchise.
External links
Community content is available under
CC-BY-SA
unless otherwise noted.