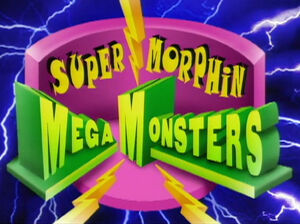 Mighty Morphin Power Rangers is an American live-action television series, based on the 16th installment of the Japanese Super Sentai franchise, Kyōryū Sentai Zyuranger. Both the show and its merchandise catapulted into pop culture in mere months from its U.S. debut in 1993. Mighty Morphin Power Rangers in its original form ran until 1996, and even spawned a feature film. Since 1996, the series has been renamed for each season, with new storylines and recasting.
The series was spoofed on Sesame Street with the "Super Morphin Mega Monsters", a recurring sketch in the 1990s.
The Walt Disney Company purchased the Power Rangers franchise in 2001, as part of a package transaction for the acquisition of ABC Family (previously "Fox Family"). In 2010, Disney sold the series back to its original owner, Haim Saban.
Muppet Mentions
Mighty Morphin Power Rangers: The Movie: When Kimberly is dragged off by Ivan Ooze's Tengu warriors she yells "Let me go, Big Bird."
The Japanese series Chouriki Sentai Ohranger (1995-1996) had footage reworked as Power Rangers Zeo. In the 1995 episode "Explosion!! A Baby," one of the babies' clothes is adorned by Cookie Monster, Elmo, and Big Bird.
Connections
External links
Community content is available under
CC-BY-SA
unless otherwise noted.