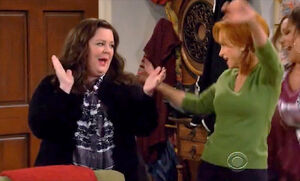 Mike & Molly is a sitcom that aired on CBS from 2010 to 2016, about Mike and Molly, a couple who meet in a Chicago Overeaters Anonymous group and fall in love.
Mentions
In the season one episode, "Molly Gets a Hat," Mike's mother Peggy gives Molly a hat as a present of goodwill. When Molly doesn't like the hat, Mike gives the hat to his police partner Carl's grandma. Carl tells Mike that his grandma loves ugly hats and that she has one that looks like Bert and Ernie in a caged match.
In the season 5 episode, "Hack to the Future," Molly tells her family and Mike that her publisher likes the book she has written and he says the book could become a phenomenon. When Mike heard that word, Mike started to dance and shout, "phenomenon!" The scene becomes a parody of the classic Muppet sketch "Mah Na Mah Na" with "do doo do do doo" chanted in response to "phenomenon".
In the season 6 episode, "One Small Step for Mike," Molly's mother, Joyce, calls Vince "Cookie Monster" when she finds him eating cookies that were thrown away in the trash can.
Connections