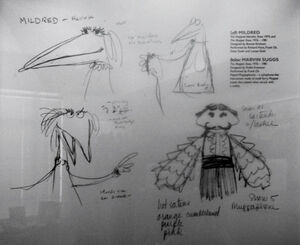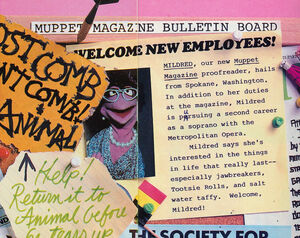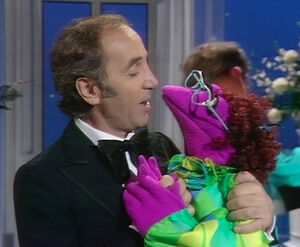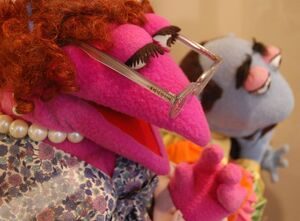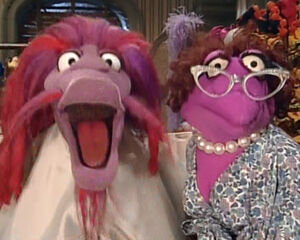 Mildred Huxtetter is a purple, beak-nosed woman who carries herself with a haughty, aristocratic air. She is very educated, as evidenced by her many appelations, which include BA, MA, PhD, OBE, and RSVP.
Mildred made her debut on The Muppets Valentine Show, where she was performed by Richard Hunt, and had the largest role of her career. In that special, Mildred serves as the piano accompanist. She also offers tea to Mia Farrow, mourns over the lack of romance in her own life, and is pursued by Brewster, who mistakes her for his old flame Grace.
When Mildred appeared on The Muppet Show, however, she was one of the few main characters whose performer was inconsistent. Although both Mildred's Featured Creature bio at henson.com and the Muppet Morsels on The Muppet Show: Season One DVDs list Eren Ozker as her regular performer, there are no known instances of her vocalizing in the role.
During the first season of The Muppet Show, all of Mildred's appearances were onstage, most frequently with George the Janitor in At the Dance sketches, where she was performed by Frank Oz. She also danced with Charles Aznavour to "The Old Fashioned Way" in episode 109 and appeared in two panel discussions: in episode 109, where she was performed by Richard Hunt, and in episode 115, where she was performed by Dave Goelz.
Because Mildred was never featured in the first season's backstage plots, no context was given for her appearances on The Muppet Show. Unlike George the Janitor or Hilda (the seamstress), Mildred did not appear to have a position with the Muppet Theater. Nor did she appear to be a performer like Wanda.
In episode 204, her first appearance on the second season of The Muppet Show, she appeared as a reporter (voiced by Louise Gold, who would also perform Mildred in episode 305). Although she would appear in the background on The Muppet Show, The Jim Henson Hour, Muppets Tonight and several Muppet movies, Mildred would have no further speaking roles. She did, however, serve as the receptionist for Muppet Magazine in the 1980s.
According to the Spring 1983 issue of Muppet Magazine (which establishes her as the publication's proofreader), Mildred is from Spokane, Washington and once pursued a career as a soprano in The Metropolitan Opera.
In 2006, the puppet was on display at the Jim Henson: Performing Artist exhibit at the University of Maryland.
Mildred returned to the Muppet troupe for some non-speaking appearances throughout the 2014 film Muppets Most Wanted.
Filmography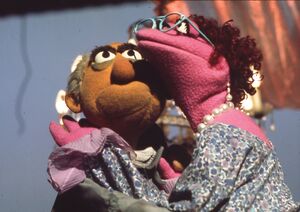 Book appearances
See also