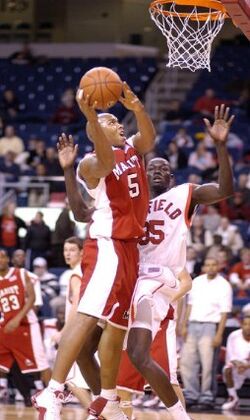 Miles Orman (b. December 4, 1984 in Englewood, New Jersey) played Miles on Sesame Street from 1985 until 1992. He is the real-life son of Roscoe Orman, who plays Miles Robinson's father, Gordon.
From 2003 to 2007, Orman played basketball for the Marist College Red Foxes; in 2004, he was called the "king of the lay-up line 360-degree dunk" and star of their practices.[2] His last game was February 22, 2007.[3]
Sources
↑ "Meet Gordon: Roscoe Orman," by Rebecca Herman. Sesame Street Magazine Parents' Guide, issue 160, December 1986.
↑ Anthony Olivieri, "There's always next season to win", The Marist Circle, February 19, 2004.
↑ Joseph Ferrary, "Foxes look to clinch first outright MAAC title in history", The Marist Circle, February 22, 2007.
External links